If there's ever been a greater advertisement for ditching meat and animal products in favor of a vegan lifestyle, we think we've found it.
Meet 78-year-old vegan male bodybuilder Jim Morris, who is PETA's most senior pin-up. And boy is he a picture of health.  Jim posed as iconic statue 'The Thinker' for PETA while aged 77, which forms part of his brand-new campaign that 'Think Before You Eat'.
The ad, which can be seen below, goes on to encourage viewers to "muscle your way to better health" – and a reduced risk of obesity, heart disease, cancer, diabetes and strokes – by going vegan.  Jim says that his health greatly improved after he retired from competitive bodybuilding in 1985 – which is all down to his decision to become vegetarian and, later, vegan.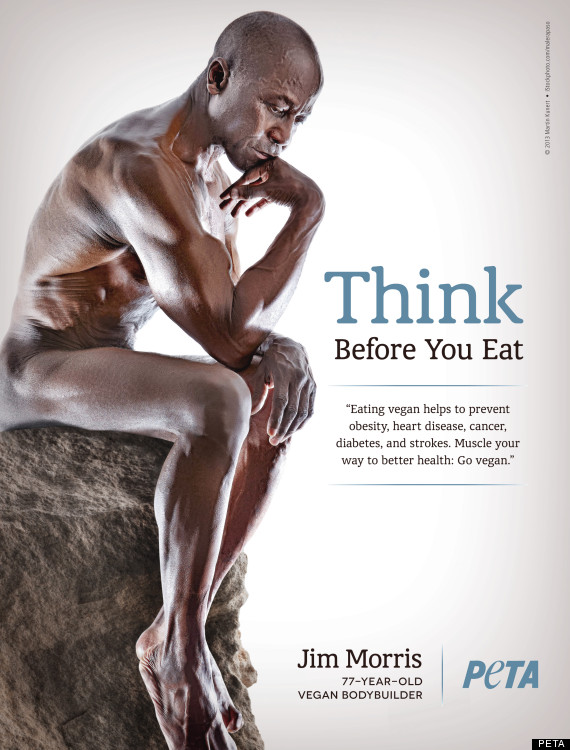 "The protein in animal products is so laden with fats and chemicals and all sorts of stuff that's harmful to you," he told PETA in an interview.
"When I was competing and stuffing down all of that sort of stuff, I had lots of digestive problems. I was constipated and bloated and just miserable all the time. . . . I know as a fact I would not be here and I would not be in this condition now had I continued eating the way I was."
After changing his dietary habits, he feels better than ever.
He encourages others to adopt the vegan lifestyle, so they can feel as good as he does.
"Milk is for babies", he says. "Humans, as far as I know, are the only creatures that continue to drink milk once they've been weaned. … I think a lot of people don't realise if they would stop drinking milk and [consuming] all of the milk products, they would say, 'Wow, I didn't realise I could feel this good'."
PETA says: "People who go vegan don't just help their own health – they also drastically reduce their carbon footprint and save animals from immense suffering on factory farms, in abattoirs and on the decks of fishing boats."
WHUR
Follow Me:
Facebook
Twitter
WHUR 96.3 FM – Howard University is Washington's only stand-alone radio station and one of the few university-owned commercial radio stations in America, broadcasting since 1971 to nearly a half million listeners daily in five states and can now be heard around the globe on the web at whur.com. The first radio station in the Washington area to broadcast in HD, WHUR is the recipient of numerous awards, including the prestigious NAB Marconi for Best Urban Station of the Year and NAB Crystal Radio Award for Excellence in Community Service.