This Fathers Day weekend was filled with nothing but joy! Pinky's up, it's time to sip slow!
More congrats goes out to Ciara and Future on the birth of their baby boy, Future Jr., who Ciara finally released a photograph of yesterday on Father's Day to honor her Fiance'! And might I say, this little Prince is just ADORABLE! Ciara and Future, we wish you nothing but the best as you embark on your journey of parenthood!
Ciara captioned her photo with the sweet message: "Hey Dad aka Big @Future. Baby Future Loves You.#HappyFathersDay." How Cute!

In other celeb baby news, another adorable little tike is on the loose. Yesterday Newlywed Kim Kardashian also honored the love of her life, husband  Kanye West, by posting a heart melting photograph of him napping with their birthday girl, North "Nori" West. The photograph was taken after they enjoyed a busy day together. I do believe that this little princess is going to be breaking hearts (and pockets) in the near future!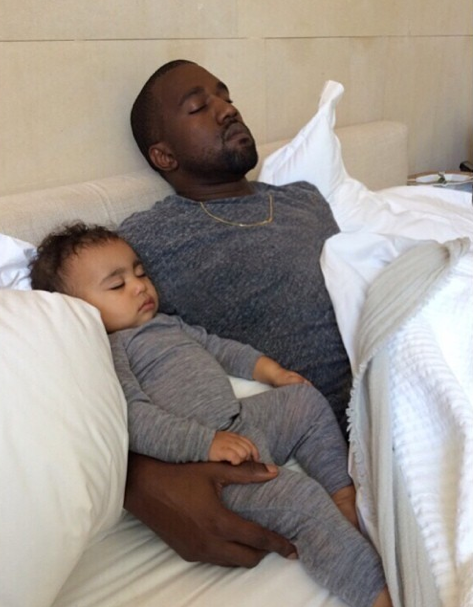 Speaking of rap babies, Happy Father's Day as well to Jay-Z who spent his special day with his princess, Blue Ivy, as well! And get this, the diva and training finally got her do did! Ooo Kill Em! Baby Blue sported a cute top knot bun which was even adorned with cute kiddie hair accessories! Yes Miss Blue you better work! Not sure of who was responsible for laying her tresses but I'm sure everyone who signed last weeks petition is just happy for the success of it!
Here you can see Blue Ivy's fabulous Father's Day coif courtesy of MediaTakeOut.com
And last but certainly not least, a HUGE congratulations goes out to Eve who exchanged vows with her long time boyfriend, Maxmillion Cooper, on Friday in Ibiza. With Eve's music success and Max's billionaire status, this is surely a power couple! Best of wishes to the two of them! Eve certainly deserves it after all the chaos she's had to endure in her past. It's true that after the rain comes the rainbow! Let's cross our fingers for more baby bells!
Now that right there is one grown and sexy couple! You go girl!
Have a fabulous Monday and remember, pinky's up and sip slow!
WHUR
Follow Me:
Facebook
Twitter
WHUR 96.3 FM – Howard University is Washington's only stand-alone radio station and one of the few university-owned commercial radio stations in America, broadcasting since 1971 to nearly a half million listeners daily in five states and can now be heard around the globe on the web at whur.com. The first radio station in the Washington area to broadcast in HD, WHUR is the recipient of numerous awards, including the prestigious NAB Marconi for Best Urban Station of the Year and NAB Crystal Radio Award for Excellence in Community Service.