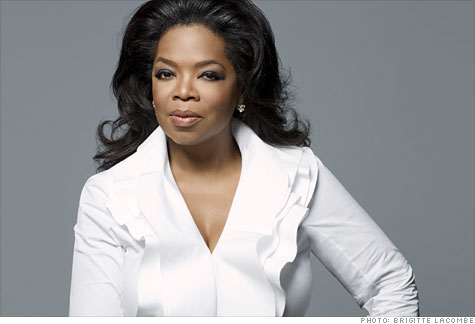 Via Wonderwall
Oprah Winfrey has reached another milestone! The TV personality turns the big 6-0 today, and to celebrate, she's recalled some of the biggest moments in her life so far in an open, and very heartfelt, letter to those who have stuck by her through the years.
"I'm turning 60. I'm alive. Healthy. Strong," Winfrey wrote in her O, The Oprah magazine (via The Huffington Post.) "I'm turning 60, and — please don't take offense — I no longer have to be concerned about what anyone thinks of me! (You know, the old Am I doing it right? Am I saying it right? Am I being what or who I'm 'supposed' to be?) I'm turning 60, and I've earned the right to be just as I am. I'm more secure in being myself than I've ever been."
For years, Winfrey has opened her doors to audiences, interviewed famous and otherwise unknown people until "The Oprah Winfrey Show" ended in 2011, and has continued to connect with people through her OWN Network and magazine. But, as it turns out, she doesn't consider any of these (or even giving a car away to each member in her audience!) as her highest achievement. What is? "Never shutting my heart down," she wrote. 
"Even in my darkest moments — through sexual abuse, a pregnancy at 14, lies and betrayals — I remained faithful, hopeful, and open to seeing the best in people, regardless of whether they were showing me their worst," the "Butler" actress wrote. "I stayed open to believing that no matter how hard the climb, there is always a way to let in a sliver of light to illuminate the path forward."
 She continued: "I approach this milestone, the landmark of 60, with humility, supreme thanksgiving, and joy. Knowing for sure grace has brought me safe thus far, and grace will lead me home."
Triscina Grey
Follow Me:
Facebook
Twitter
Known for connecting with her audience with charm, style, and excitement, she is undoubtedly one of the most sought-after emcees for civic and social events throughout the DMV. Triscina's radio show features music, entertainment , lifestyle and community affairs. Two of the most prominent segments during mid days are Triscina's signature "Message in the Midday," which provides daily inspirational messages, and the very popular "Café'96," at noon where she serves up delicious "tasty tunes" listener's request. Her latest show addition ties in her desire to spread a healthy vibe to her fans. "Get Off Your Buns and Move" gets her faithful listener's enthusiastically dancing and moving to the music as a group! Triscina's radio show features music, entertainment , lifestyle and community affairs. Triscina is a member of the American Federation of Television and Radio Artists (AFTRA) and Screen Actors Guild (SAG) . She is also a member of Delta Sigma Theta Sorority, Inc., Prince George's County Alumnae Chapter (PGCAC). She is the recipient of numerous awards such as the Women Making a Difference Award from the Prince George's County NAACP, Sorority-wide Sister II Sister Award, and the Masonic and the NAACP Leadership Awards from her home state of Connecticut. Triscina Grey is heard weekdays from 10 am to 3 pm on the Adult Mix, 96.3 WHUR.