96.3 WHUR is marking 50 years of excellence in broadcasting and community service Friday, December 10th at 10:30 a.m. with a special mural unveiling outside Ben's Chili Bowl at 1213 U Street, NW.
The radio station first hit the airwaves December 10, 1971 at 6pm. Five decades later, WHUR is highlighting its golden anniversary with a large mural depicting the many voices, faces, and images that have kept the station going strong for half a century. "It's so fitting that this special WHUR mural is located outside the iconic Ben's Chili Bowl, which has been a staple of the DMV community for decades," said WHUR General Manager Sean Plater.
And we have an entire weekend of events to celebrate the 50th Anniversary: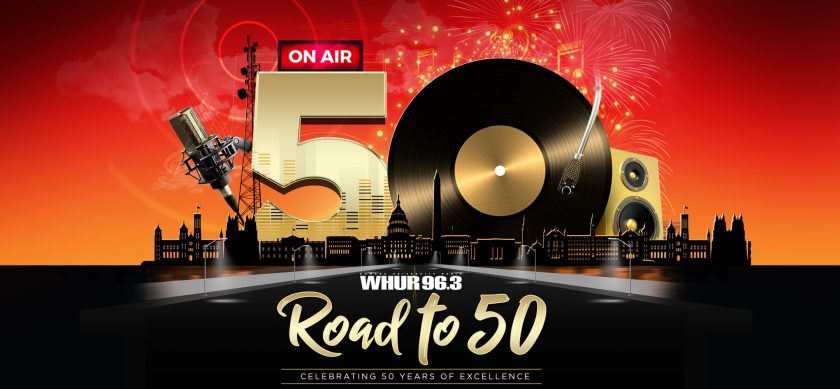 Friday, December 10:
Ben's Chili Bowl (1213 U St. NW)  – 10am – 3pm:  A live broadcast of our Midday Show hosted by our Midday Love, Autumn Joi Live, and a special WHUR Mural Unveiling.  We will also present the "WHUR Community's Choice Goldie Awards" winners with a special ceremony.
Special Daily Drum Broadcast on 96.3 WHUR – 6pm – 7pm: The "Daily Drum," hosted by Harold Fisher, will broadcast at a special time with a number of WHUR family members to take a journey from the humble beginnings in 1971 to the present.
WHUR 'Through The Years' Music Retrospective on 96.3 WHUR – 7pm – 11pm: WHUR hosts, past and present will take us on a musical journey through the years and share some of their fondest memories of their time here at WHUR.
70's at 7 hosted by Joe Gorham
80's at 8 hosted by Mansy Pullen
90's at 9 hosted by John Monds
2000's at 10 hosted by Smokin' Tony Richards
Saturday, December 11:
WHUR 19th Annual "Children's Toy Drive" @ The Shops at Iverson (3737 Branch Ave, Hillcrest Heights, MD) – 12pm – 4pm: Join the WHUR Family at the Shops at Iverson as we continue our "Season of Giving" by collecting as many unwrapped toys as possible for children in the DMV area for the holiday season.
HUR at 50 Birthday Blend by DJ Herb on 96.3 WHUR – 4pm – 5pm:  DJ Herb will dig in the crates and provide an hour-long WHUR 50th Anniversary mix of music from 1971 to the present.
HUR at 50 Virtual Music Celebration on WHUR.com, Facebook Live and Youtube Live – 8pm: A Virtual Concert celebrating WHUR's 50th Anniversary starring SuCh, Kevin Ross, Kenny Lattimore, Conya Doss, Robert Glasper, Eric Roberson, Maxwell, Chante Moore and more!